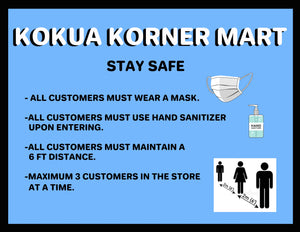 Kokua Korner Mart is open!
Our NEW store hours are Monday-Friday, 7:30 am - 4:30 pm. 
Curbside pickup for online orders are Monday-Friday, 1:00 pm - 4:00 pm.
Please help us keep our staff and customers safe by observing the health and safety guidelines set forth by our State and City & County. Thank you and we look forward to seeing you in-store soon!
---
Kokua Korner Mart is online!
While our store is open to customers as of June 1, we will continue to offer curbside pick up outside our storefront at 175 Kahelu Avenue, Unit 1 for online orders Monday-Friday, 1:00 - 3:00 pm.
Click on the menu to the left to shop! Please note that there is a $15 minimum to check out and all sales are final.
Case pricing available online only.
Place your order online and it will be ready for pick up the next day. You will receive an email confirmation.
Call us at 677-0046 and ask for Kokua Korner Mart when you are outside and we will run your order to your car. 
Please pick up within 2 business days or your order will be refunded and returned to stock.
Thank you for shopping with Kokua Korner Mart!
Our store
175 Kahelu Avenue, Unit 1
Mililani, HI 96789

Store Hours:
Mon - Fri, 7:30 am - 4:30 pm


Curbside Pickup for Online Orders:
Mon - Fri, 1 pm - 4 pm